A boy from Queens Area "Kingston-upon-Thames, Surrey" became a Hollywood star. Was it easy for him? In this blog post, we will cover every aspect of his life!
Who is Tom Holland? And how did he get a shot in Marvel Studio?
Queries that we will cover in this article:
Who is Tom Holland?
It is a well-known fact that legend's children are always legends! Tom Holand, a great British actor, will be our discussion subject in this article.
An exceptional person named Thomas Stanley Holland was born on June 1, 1996, in England. His father, Dominic Holland, was a stand-up comedian and author, and his Mother, Nikki Holland, was a photographer! He has three siblings: Harry Holland, Sam Holland (twins), and Patrick!
He got his early education from Donhead Preparatory and then his higher education from Wimbledon College and BRIT school! At the age of 7, his studies get disturbed due to a disease named 'dyslexia'! After that, he could not focus on his studies anymore!
Moreover, apart from studies, he also joined Nifty feet dance school during his school life! He was bullied by his school-fellows being a dancer! But he didn't focus on this shit!
In 2006, Tom was first seen at the 'Richmond Dance Festival' showing his dancing skills! His dancing skills impressed the famous choreographer Lynne Page, and he took tom under his wings! Because only a legend can recognize the skills of a legend!
How did he get his first shot into Marvel?
He first appeared as a cameo in Captain America Civil War! Before I tell you about his iconic entrance, let's take a walkthrough of that movie's plot!
In that movie, Iron Man discovers that Steve Rogers, AKA Captain America's best friend, killed his father! At that time, Bucky was hired by the HYDRA and was in control by them, and they programmed him to kill Iron Man's father, AKA Stark! So, Tony Stark was furious and wanted to take revenge on him!
But Captain America tried to save him from Tony Stark! And after that, Avengers got involved and broke down into two teams!
Team 1: Captain America
Team 2: Iron Man
Most of the members of Avengers joined the captain's team! Tony started finding out about other heroes. And there he found out about Spider-Man! So, he tracked him down and asked him to join forces with him! This was when he was first on the big screen as Spider-Man!
On the battlefield, he took Captain Sheild from him! And waves and say, "hello, everyone."
And says to Cap
Spider-Man: Cap… Captain America? Big Fan, Sir?
Captain America: You've got an excellent heart! Where are you from?
Spider-Man: Queens
Captain America: Brooklyn!
That was it! His first debut in Marvel! That shocked the whole world! People loved him in that Suit! And started demanding more of him!
Other titles:
During the opening series of Spider-Man: Homecoming, Michael Keaton, AKA Adrian Toomes, and his Colleague are searching for technology buried under New York City's rubble! Suddenly, a forces team comes and shuts down their project and asks them to hand over all their search align technologies! After this incident, Toomes decides to sell Hybrid weapons to get profit!
After eight years, Michael Keaton, AKA Adrian Toomes, makes a dress with his aligned technology that enables him to fly like a vulture!
At the same time, Peter Parker, aka Spider-Man (Tom Holland), is at a loss after an exciting experience with the Avengers! He is waiting for the call of Iron Man (Tony stark) for his next mission! Young Peter fights against crime and helps the people who need him! Apart from all these things, he also goes to high school, where he has his best friend, Jacob Batalon!
Besides being a friend of Peter (Tom), he (Jacob) is also a crucial figure on the quiz team! Moreover, Peter Parker also has a crush on Laura Harrier (popular student Liz)! And asks Liz to go Homecoming dance with him!
During this night, Peter learns about Liz's dad, Adrian Toomes! And with that, he also learned that his plans were not good! He leaves the party at that point and races to Toomes's lair while wearing his old homemade Spider-Man Suit!
Parker traps in the rubble of the collapsed building as Toomes attacks him by destroying the building's support columns. As he escapes, Parker intercepts the plane and steers it into a crash on Coney Island beach near the flight's end.
After that, they (Toomes and Peter) continue their fight, and during this fight, Toome's vulture dress gets destroyed, and he is about to die, but Peter (Tom Holland) saves his life and handover him to the police!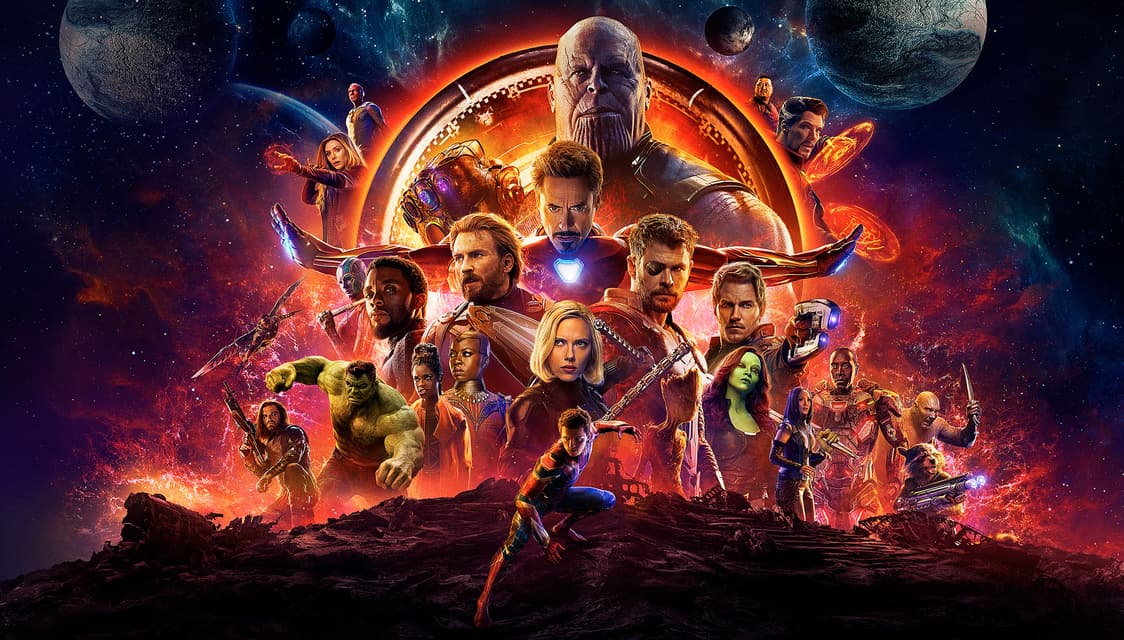 Avengers Infinity war starts with Thanos (Josh Brolin), his army, and some wizard and witches killing out the population! Thanos thinks that by killing half of the population, he can reduce starvation and poverty on Earth! That's why he kills a lot of people!
To stop Thanos, Nick Fury makes the team fight the "Protective initiative" battle! And the names of members who are members of this team are listed below!
Robert Downey Jr. as Tony Stark / Iron Man
Mark Ruffalo as Bruce Banner / Hulk
Chris Hemsworth as Thor
Benedict Cumberbatch as Dr. Stephen Strange
Don Cheadle as James "Rhodey" Rhodes / War Machine
Scarlett Johansson as Natasha Romanoff / Black Widow
All the avengers agree to sacrifice everything to stop Thanos from spoiling the Earth! On the other hand, Thanos and his army are continuously trying to get those six infinity stones with that he can rule the world! The stones that he wants to achieve have magical power!
There is a quest going on between Thanos and the Infinity Stones, which are gems with magical powers, such as the ability to control time, that he is seeking to obtain. If Thanos obtains all the Stones, he will have to use a single thought to wipe out most of the universe's population.
One day, Peter's AKA Tom Holland school has been going where he sees that Iron man is fighting with Thanos! After seeing this, he reaches home, wears his spider-man costume, and arrives where both of them (Iron man and Thanos) are fighting! Peter Parker (Spiderman) also fights with Thanos, but in the end, he (spider-man) dies due to less power!
But Avengers try to stop Thanos and destroy the mind stone inside his head, but the avengers do not get this from Thanos! In the end, Thanos uses a time stone, and by reversing time, he gets all six stones!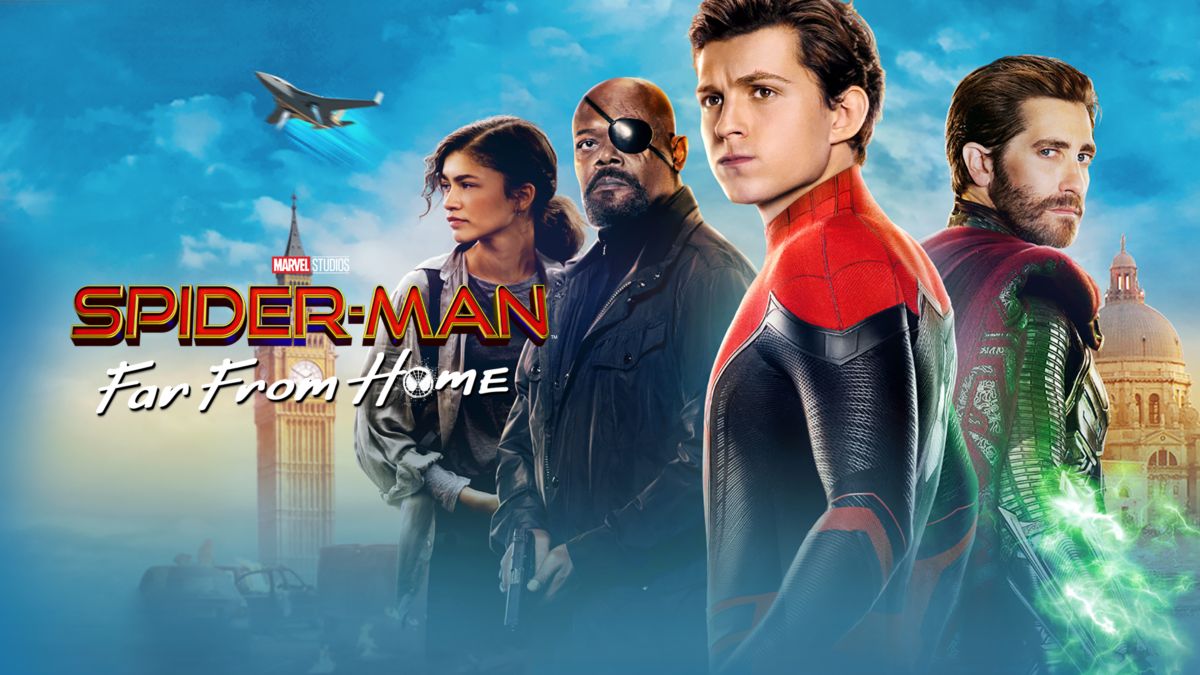 Spider-man: far from home starts with Peter Parker, AKA Tom Holland, and his buddies, Mj,  Zendaya Stoermer Coleman, Betty, AKA Angourie Rice, Ned, AKA Jacob Batalon, and their class fellow were going on a trip to Europe!
On the way, suddenly, a Giant monster attacked the students! Then, Mysterio (Jake Gyllenhaal), a mysterious new superhero who claims to be from a parallel universe, joins Peter on the school trip when giant monsters invade it.
As he attempts to rescue the world and confess his feelings to MJ, Peter discovers that Mysterio might not be who he seems. Despite Peter's best efforts, he and his friends may be in greater danger than he thinks.
In venom 2, we see a glimpse of Spidey, which opens up a wide array of possibilities. Venom has its eyes on Spidey; that's one to be sure of, which gives us the benefit of the doubt that we will see a crossover in upcoming titles!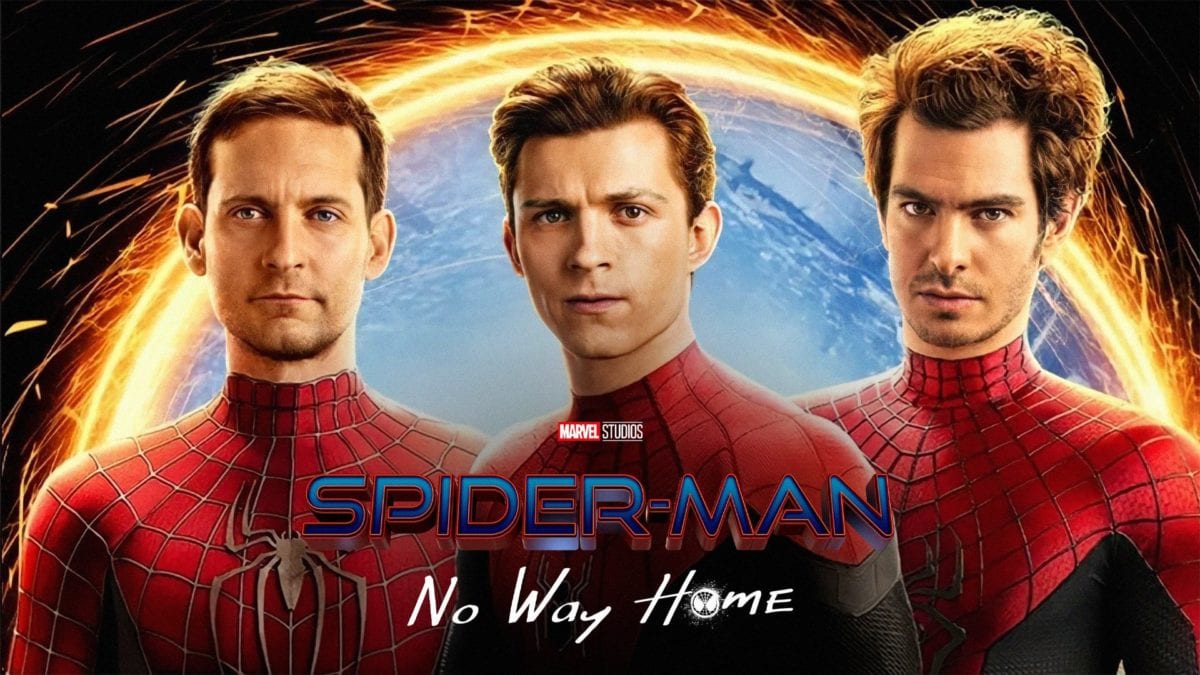 In Spider-Man: No way home, Peter's identity is revealed throughout the world as a spider man. And he was allegedly charged with the murder of Mysterio! In this movie, a new star debuts Dare Devil! The lawyer that handles the case of Spider-Man!
Because of this mess, Peter and his friend cannot get admission to MIT, for which he goes to Dr. Strange so he can make everyone forget who spider man is! While doing the spell, Peter tempered with a spell that opened the gateway to multiverse!
Because of this, we see heroes from the past "Tobey" and "Andrew" back into their Spider-Man suits! And they team up with Tom to make things normal!
Why was Tony Stark attached to Peter Parker, AKA Spider-Man
Peter Parker is everything that Tony stark wants to be! First, he is an intelligent kid who helps people and wants to be a hero; that's why he is very dear to Tony Stark! And Tony wants to provide him with all embellishments, suits, security, and encouragement! This is the reason why Tony was too attached to Peter Parker, AKA Spiderman!
Latest Debut in Uncharted:
Unchartered is an American action/adventure movie released on February 18, 2022 (USA). This movie is inspired by the game series "unchartered."
After many years stuck in development, Uncharted ultimately found its leads in Mark Wahlberg and Tom Holland, as Victor "Sully" Sullivan and Nathan Drake, respectively.
Main Cast
| | |
| --- | --- |
| Nathan Drake | Tom Holland |
| Victor 'Sully' Sullivan | Mark Wahlberg |
| Chloe Frazer | Sophia Ali |
| Jo Braddock | Tati Gabrielle |
| Santiago Moncada | Antonio Banderas |
| The Scotsman | Steven Waddington |
| Young Sam | Rudy Pankow |
| Young Nate | Tiernan Jones |
| Hugo | Pingi Moli |
Story
The unchartered story is based on treasure hunting. The movie starts with a heist, so it becomes a race to win the prize before the ruthless Santiago Moncada. "Sully" is a supporting character who meets with a boy named Nate in a bar. If both Nate and Sully work together to decrypt the clues and solve the 500-year-old mystery, they can get 5 billion dollars in treasure. The movie has many VFX effects and thriller scenes.
There is nothing in this movie that you can't watch with your family. The movie is purely family-made and full of action scenes.
Nate
Nate is a bartender. While serving a rich girl, he swipes her bracelet. Sully observed and offered Nate to work with him, but Nate refused.
Nate later finds that his bracelet is missing, swiped by sully, and he left his business card.
When Nate goes to Sully's office to get his bracelet, he finds the same map that he and his brother tried to steal in childhood.
Later they discussed and became partners in finding that 500-year-old treasure.
Sully informs Nate that they must get two gold keys to break this treasure. Sully has the first key, but one is in a museum, so Nate helps him steal that key then. The story revolves around both of them finding the treasure.
Frequently Asked Questions:
Are we going to see him more in Spiderman Suit?
We all know how well Tom Holland performed his character in the previous Spiderman movies! People liked his acting skills, and now they are asking for Spiderman 4! If Spiderman 4 comes, we'll see Peter Parker, AKA Spiderman (Tom Holland), in a Spiderman suit!
What's his relationship status with Zendaya?
We may know from the above detail that Peter Parker, aka Spiderman, and Mj, aka Zendaya, worked together on Spiderman: Far from home. It is good to know that they have been best friends since then and have kept the relationship as buddies for a long time! Now, they have announced their relationship as officially boyfriends and girlfriends, and they can be seen together at any event they attend as a couple!
Did you know that Marvel strictly told them two not to date?
The film stars Zendaya, and Tom Holland were strictly told by Marvel not to date before casting in Spiderman! That's why they kept their relationship private!
Moreover, if you want to know the biography of Katianna Stoermer Coleman, you can visit our blog section!
What is the Net Worth of Tom Holland?
As we know, Tom Holland is an actor and dancer, so it is worth talking about his net worth! He has a $25 million net worth! In addition, Holland is most famous for his role as Spider-Man in the Marvel Cinematic Universe, for which he achieved top billing.